Pericles, by William Shakespeare in Valtice Palace Theatre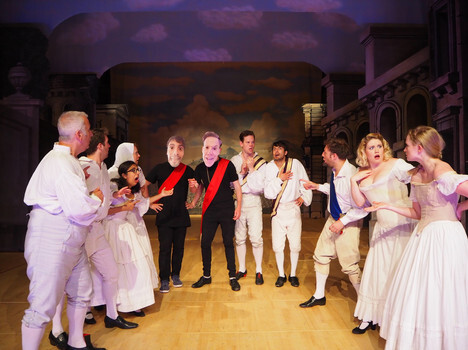 Pericles, by William Shakespeare
Idle Discourse is delighted to return to the stunning Baroque castle theatre at Valtice this summer to present Pericles, by William Shakespeare.
Pericles is a Shakespearean epic —an exciting and exotic adventure of mystery, marvels, and mayhem— now brought to Valtice in a bold new production. Having discovered a dark secret in the court of Antiochus, Pericles is forced to wander a world filled with captivating characters. It's an odyssey of life and death, morality and depravity, civility and barbarity, and, most of all, of the everlasting endurance of love.
Performed in English, this new production brings one of the Bard's grandest tales to life with irreverence, humour, and maybe just a little bit of silliness. An energetic and accessible interpretation of the play, expect remarkable Shakespearean storytelling at its most evocative!
This will be Idle Discourse's second production at Valtice after The Comedy of Errors in June 2018, which audiences said was "Brilliantly bonkers!" and "Super-fast and super funny!"
Director Dan Dawes is a London based actor, director, and playwright. His recent works include Tales from Star City, Axolotl, and Steel Tumbleweed, while his Shakespeare directing credits include A Midsummer Night's Dream, Richard II, Macbeth, and Twelfth Night. Idle Discourse was founded in 2016 by Dan and his co-producer Nina Flitman. It aims to embrace the joy of storytelling, and its capacity to reveal the greatest insights about life.
Pericles will run September 5-7, tickets to buy on-line here or at Valtice Castle cash desk.