LVHF2020 | Čechomor & MFO - Valtice Castle Riding Hall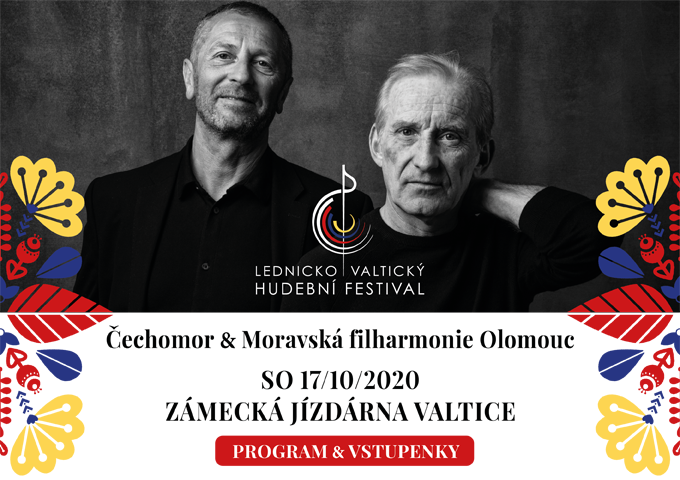 Titul: LVHF2020 | Čechomor & MFO
Podtitul: Final Gala Concert
Pořadatel: Lednice|Valtice Music Festival
Interpreti:
Čechomor
Moravian Philharmonic Orchestra Olomouc
Jan Kučera (Conductor)
Datum: Saturday 17 October 2020 at 7 pm
Místo konání: Valtice Castle Riding Hall
Link na lokaci: https://www.lvhf.cz/en/venues/valtice-castle-riding-hall/
URL koncertu + prodej vstupenek: https://bit.ly/2Wegc3R
Anotace
Jaz Coleman's arrangements of now-legendary songs "Mezi horami" (Among the Mountains), "Proměny" (Transformations), "Slunéčko" (Sunshine) or "Velické zvony" (Bells of Velička), enriched with new titles by Adam Sztabo for Čechomor and a symphony orchestra in the impressive Riding Hall of the Valtice Castle. What else? Come and say goodbye in a poetic way to the 5th year of Lednice|Valtice Music Festival! We are looking forward to you! The ticket includes a discussion with painter and graphic artist Antonín Vojtek, starting at 6 p.m. in the Valtice Castle Riding Hall.
Čechomor
František Černý (Guitar, Vocals)
Karel Holas (Violin, Vocals)
Adam Malík (Guitar, Clarinet)
Matěj Lienert (Percussion)
Lukáš Čunta (Bass-Guitar, Moog)
Martina Pártlová (Vocals)
Cena vstupenek
CZK 1490/990/490
Program
Leoš Janáček (1854–1928)
Pilky from Lachian Dances JW VI/17
arr. Jaz Coleman (1960) (2-5, 7, 8, 11-16)
arr. Adam Sztabo (1975) (1, 6, 10, 17, 18)
1. Pine Tree
2. Sunset
3. Transformations
4. Among the Mountains
5. The Fish Came Out
6. Go Down, Sun
7. Happy Janek
8. I Had a Dream
9. Geese
10. Masters in Vsetín
11. A Pear
12. The Wedding
13. Soldier
14. Simbolice
15. The Breeze
16. The Bells of Velice
17. Don't Bring Me There, Mother
18. Górale
Video
https://www.youtube.com/watch?v=yDfckDuZ_hA
FB událost
https://www.facebook.com/events/514346722775882/