Spanish Stable
Suitable for wedding parties, catering, wine tasting, small concerts, congresses, presentations, and other social /cultural events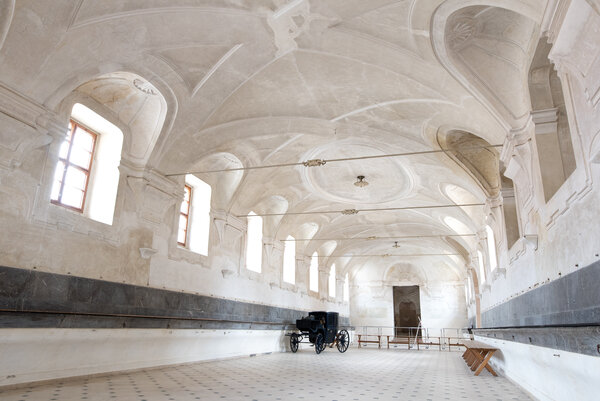 The Spanish Stable has two separate entrances that allow undisturbed deliveries and preparation of the event. One of the entrances leads to a closed courtyard with all facilities and toilets, the second one leads to the castle terrace over the Valtice main square. Wheelchair access available.
The Stable is fully illuminated with 230/400V electricity.At the stables there are toilets available in the required range. Space is not heated and can organize events here in the winter time, renting the Spanish stables is possible in the period from May to October.
Deliverers are possible outside of the central castle premises. For larger events, it is possible to join the central castle premises and the Stable into one functional unit. Everything after previous agreement and a personal meeting with representatives of the Management of the Valtice State Castle.
Capacity: 80 – 150 people according to the arrangement and the size of a stage.
Dimensions: 9.3 m x 40 m and height of 7.1 m
Price of leasing:
wedding partie - 25 000 CZK including VAT / 24 hours, price includes rent, electricity, toilets, water, cleaning, technical support
wedding partie in case of consecutive rent on the Castle Chapel - 28 000 CZK including VAT / 24 hours, price includes rent (24 hours Spanish Stable, 1 hour Castle Chapel), electricity, toilets, water, cleaning, technical support on Sunday to Friday, 35 000 CZK including VAT on Saturdays
other commerial leases - 30 000 CZK including VAT / 24 hours, price includes only the rent, additional services will be charged individually according to the scope and nature of the event, the organizer requests to provide services and furniture rental
leasing over 48 hours is VAT free