Winter Riding-Hall
An ideal place for concerts, cultural events, conferences, congresses, trade fairs and balls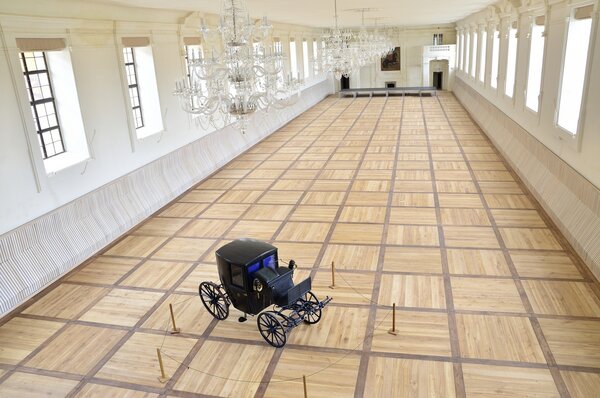 The Winter Riding-Hall is primarily intended for the partners of the NCDT (National Theatre and Dance Centre) Project to hold social, cultural, educational, and scientific events. At times when it is vacant, its facility can be used for other non-commercial or commercial activities.
The Riding-Hall is equipped with independent catering facilities, facilities for performers, cloakroom, and direct access to the toilets. The Riding-Hall has 4 entrances – for performers, deliverers, catering, and the main entrance is through the castle premises. The area also includes 2 balconies and 3 lounges with separate entrances. Another part is the lounge with the balustrade above the Riding-Hall, also with a separate entrance from the courtyard.
The area is fully barrier free.
The area is equipped with efficient heating and air conditioning, electricity capacity (up to 8x 400 V x 32A) for whatever sound and lighting system.
There are 800 chairs, 50 mobile stage parts 2 x 1 m, bistro tables, basic sound system, screens and projectors available.
Capacity: maximum 800 seats in the theatre arrangement; maximum standing room for 1 200 people.
Dimensions: 17 m x 62 m and height of 8.7 m
Price of leasing:
wedding partie - 50 000 CZK including VAT / 24 hours, price includes rent, electricity, toilets, water, cleaning, technical support
wedding partie in case of consecutive rent on the Castle Chapel - 53 000 CZK including VAT / 24 hours, price includes rent (24 hours Winder Riding Hall, 1 hour Castle Chapel), electricity, toilets, water, cleaning, technical support on Sunday to Friday, 58 000 CZK including VAT on Saturdays
other commerial leases - 70 000 CZK including VAT / 24 hours, price includes only the rent, additional services will be charged individually according to the scope and nature of the event, the organizer requests to provide services and furniture rental
leasing over 48 hours is VAT free